Being a Woman On a Sober Mission in July 2023, where to start! What a fantastic, very busy month it's been despite the weather being so up and down. It's been a great month in both my work and personal life.
It's been a really busy time at work. For those of you who don't know I'm a director at the Lloyds Bank British Business Excellence Awards. This is the UK's largest business awards programme which recognises the achievements of businesses from all over the UK. From micro businesses, SME's and all the way to the FTSE 100, these awards represent all business. I love my job, especially this time of year where our entries campaign closes and we announce our shortlist.
What I do for work
Business awards are super interesting to work on. I'm in a privileged position of being able to hear and learn from the UK's business leaders for a job. It can be stressful but also fun and glamourous at times. I feel especially lucky to be working with an amazing team. Sarah my boss and friend, set up the awards after having run another business awards programme.
The programme was scrapped by a FTSE 100 events company at the start of the pandemic, whilst also making her redundant. This was on the back of just returning to work from maternity leave! Rather than wallowing she set up her own awards programme – The British Business Excellence Awards, inspirational right?
I'm so lucky to be doing a job I love. Especially the fact I get to bring people together for a living. People often ask how I'm sober when I work on events, don't all events revolve around alcohol? And they would be right, events do tend to revolve around alcohol. But the shift is happening, and we are certainly seeing a shift towards more conscious drinking from our guests.
You would only know this because we not only make sure that all our events are inclusive to those who are sober, but to also give options to those who want to be more conscious around their alcohol consumption. I will likely do a second post about this topic soon.
The House of Commons
The beginning of July saw us hosting our Summer Party at the House of Commons. This was my first time visiting the House of Commons and it really didn't disappoint!
It was one of the hottest days so far weatherwise. We were treated to beautiful clear skies after some rather iffy weather in previous weeks. I can tell you it was rather welcome, especially given that the event was being held on the terrace. 
The gorgeous silver silk dress I wore for the event from & Other Stories. I wouldn't have ordinarily worn something like this. It was rather clingy! But I fell in love with the cut and so glad I chose it. The only downside was that given the heat, the fabric showed the inevitable sweat patches. I spent a lot of the event standing under the air conditioning!
House of Commons and alcohol-free options
The canapes at the event were fantastic! However, I was a little disappointed to see such a severe lack of alcohol-free options on the menu. Especially given the incredibly lengthy wine list!
There was one alcohol free beer (Lucky Saint) and soft drinks. After making it clear we needed a REAL alcohol-free option for our guests, they accommodated us with an alcohol-free Mojito.
After being advised that not many people would opt for the alcohol-free options, the Mojito ran out first! It goes to show the shift in drinking, especially amongst the business community. Proving that there is a demand for AF alternatives felt great.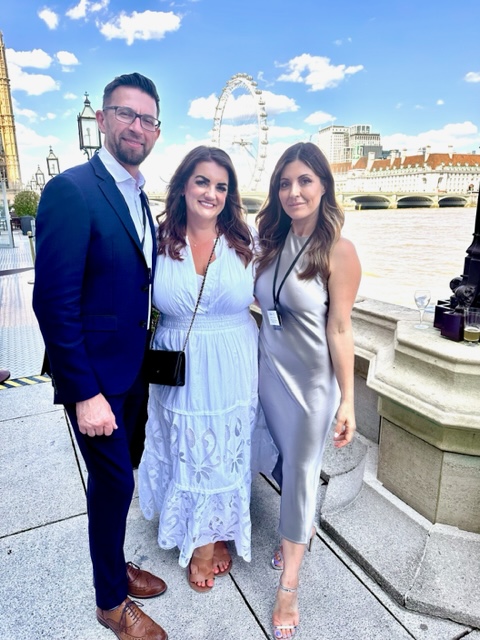 When I first started networking sober, I did find networking HARD. I was really stuck in the idea that people would be watching what I was drinking. I feared people would not want to connect with me if they discovered that I was sober. That I would be BORING.
I discovered that I felt that way because that's how the old me would have responded to a non-drinker. The reality is (shock, horror!) that not everyone drinks. And that those who I choose to talk about my sobriety are always intrigued and impressed.
That said I do find I can get tired easily networking. I have come to realise that I'm quite shy. I mask it well in work settings and areas where I'm in my comfort zone. However, if I don't have a job to do or I'm in unfamiliar territory then it's more noticeable.
It's totally normal to feel uncomfortable in unfamiliar situations. It's perfectly normal and we are hard wired to be like this. It has nothing to do with not drinking.
A private tour
The highlight of the event was Sarah and I being given a private tour of the House of Commons. With a few detours to areas that are not part of the normal tour I should add! I can't go into too many details of the places we got to see. Photos unfortunately weren't allowed but it's an experience I will never forget.
We were so lucky to have met our incredible guide who was not only super knowledgeable but fascinating himself. I hope to go back again soon. Having been invited back to join the guide for tea on the terrace, how could I not? I will surely be taking this offer up.
The Awards Awards
Yes, there's an awards event for everything, including awards! Once again, we were finalist at the Awards Awards, held at Old Billingsgate. We were up for Awards Event of the year over 600 attendees which is always a competitive category. I attended with the wonderful Jess, the event manager on our team. Sarah was unfortunately on holiday at the time, so it was just the two of us.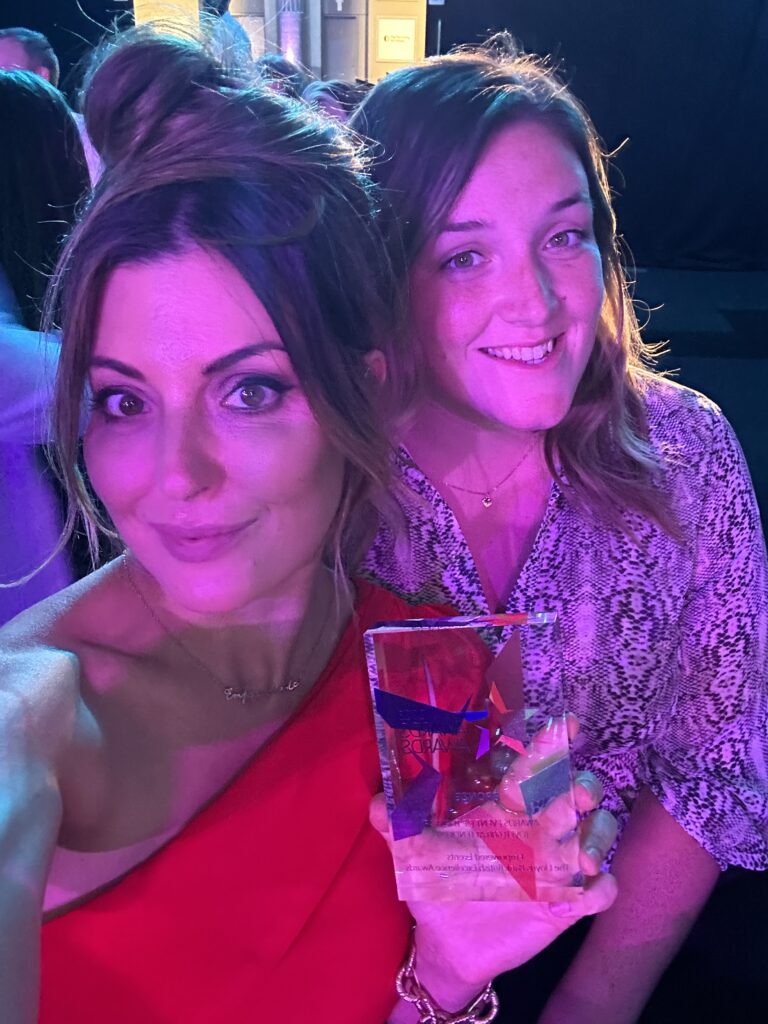 Bumping into old colleagues
During the drinks reception I bumped into some old colleagues whom I worked with about 10 years ago. They had gone on to set up a new events company which was also up for an award. Mike my old boss I hadn't seen since I left the business, it was quite surreal seeing him again. When someone told Mike I was now sober his face was an absolute picture! I have never seen a reaction like it.
He recalled the last time he and I were out together. Mike said we were both hanging over some railings pissed at 2am – that's probably the tame recall! Hearing him say he was really impressed by my sobriety meant a lot to me. It was so nice to all catch up after all this time.
Sadly, we didn't win but we did pick up bronze which we were very pleased with. Seeing some of my industry friends go on to win their categories was fantastic. It always makes me super proud to see friends set up their own events and make them a success.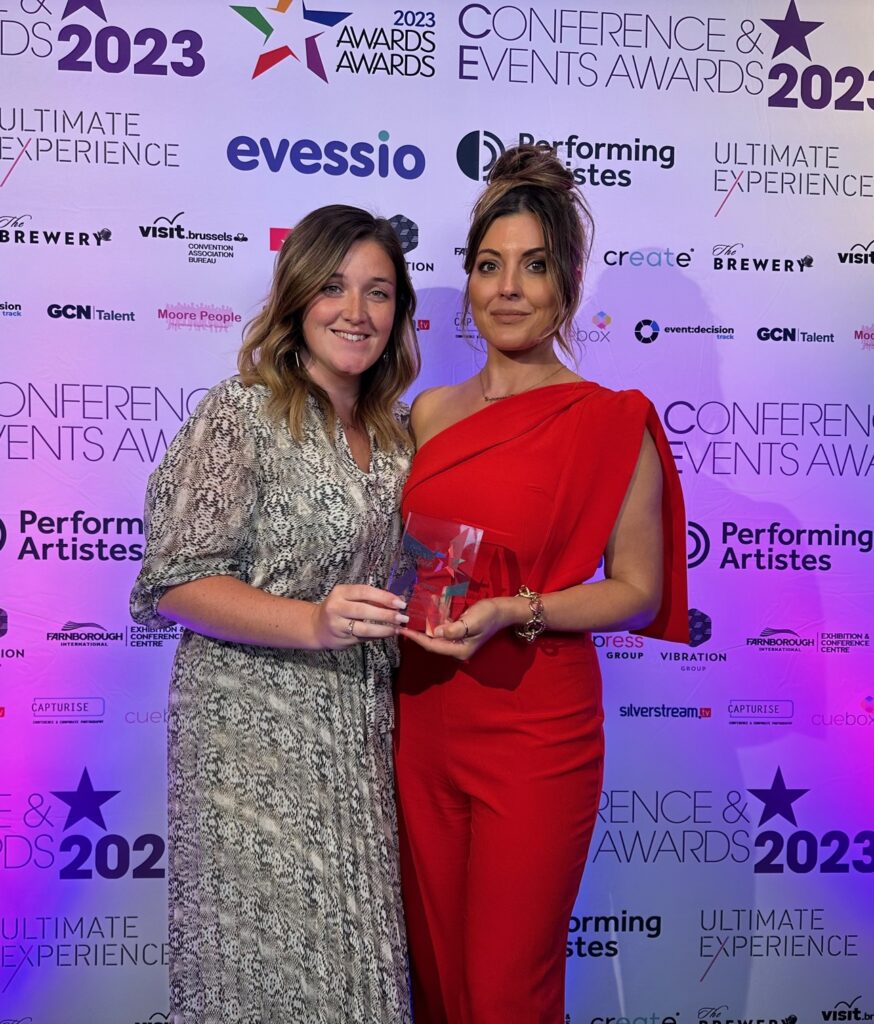 Celebrating 3 years of sobriety
On the 23rd of July I celebrated 3 years of sobriety. I still pinch myself when I think how far I've come. The amount of growth I've made in such a short space of time is just incredible.
I will forever be grateful to the wonderful sober community I found on Instagram. It has been the single biggest source of support for my sobriety journey. I feel so privileged to be able to help those who are embarking on their own journey too.
I didn't do anything big to celebrate but I did appreciate all the phone calls and messages I received. My husband surprised me with a Thai Massage which I still need to book in.
Every milestone I hit is a blessing.